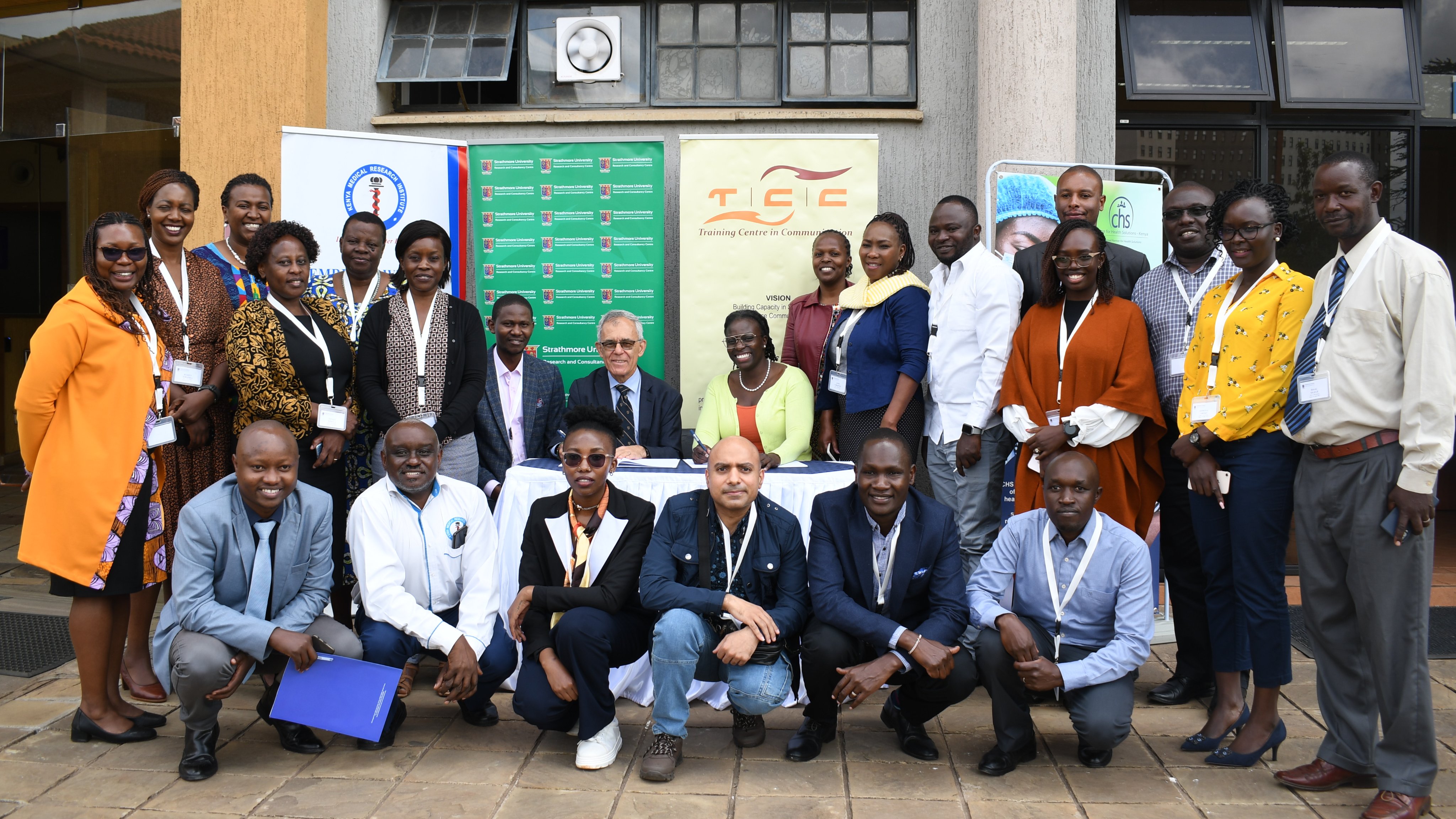 Strathmore Research and Consultancy Centre(SRCC) held a workshop on 9th June 2023 for researchers looking for financial solutions for their research work. The session was organized in collaboration with Kenya Medical Research Institute(KEMRI), The Leadership Circle, Training Centre in Communication Africa(TCC Africa), Centre for Health Solutions Kenya(CHS Kenya), and WHL Empowerment ThinkTank. In attendance were researchers from several industries and facilitators from the partner organisations. In her welcoming remarks, Christine Owande, SRCC Managing Director said that "This workshop presents itself as an opportunity for researchers to interact, network and learn from fellow researchers' experiences. It is through networking that we start new collaborations."
Prof Izael Da Silva, DVC Research and Innovation at Strathmore University graced the workshop with his presence and spoke of the importance of research, "Local research is necessary in solving local problems. Let us embrace it." Speaking on the need for financing in research was Dr Irungu Karuga from CHS Kenya. He said, "Young researchers play a major role in shaping our increasingly global and knowledge-based societies. Let us support them as they have fresh perspectives, ideas and innovative approaches."
The researchers in attendance got insights from experts on how to navigate the research cycle, how to access financing in research, as well as personal and professional development compass. Prof Jennifer Orwa, Deputy Director, Resource Development & Knowledge Management at KEMRI, encourages the researchers to us embrace evidence from research as it informs interventions. 
The workshop was marked by the signing of a Memorandum of Understanding(MoU) between Strathmore University through SRCC and TCC Africa. "We are honoured to share a 3-year agreement with TCC Africa; this MoU will enable the parties to pursue mutual projects within the research space", said Christine Owande. "We are thrilled to embark on this partnership together with the Strathmore Research and Consultancy Centre (SRCC) team, as we aim to tackle the various challenges faced by our researchers and are looking forward to creating effective end-to-end solutions that will empower our research communities," commented Joy Owango, Executive Director of TCC Africa.
Strathmore Research and Consultancy Centre is the consultancy arm of Strathmore University; it coordinates the consultancy work of the university. Besides publishing and distribution of study materials, it offers consultancy services in Human Resources, Information Technology, Management consulting, Fund Management, Strategy Development, as well as project monitoring and evaluation. TCC Africa is a non-governmental institution whose primary aim is empowering researchers and research-focused institutions.
This article is written by Odhiambo Obonyo.